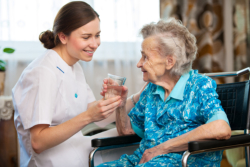 Skilled Nursing
Our Registered Nurses provide skilled care to their patients. They also provide education and helpful instruction to family members. Our nurses work to enable their patients to live and function independently at home.
This process increases the patient's comfort; thereby, improving their overall health. Our services include but are not limited to:
Treatment & Injections
Dressing Change
Catheter Care
Supervision of Medication
Restorative Care
Respiratory Care
Family/Patient Health Education & Counseling
Diabetic Education
Care of Chronically Ill
Drawing Blood & Lab Work
Intravenous Therapy (IV)
Wound Care
Pre-Op and Post-Op Care
Physical, Occupational, & Speech Therapy
A-1 Healthcare Management therapists are certified and licensed in the State of California. Each therapist is especially trained to assist patients in improving their ability to perform daily activities. Our therapists will assist family members in making arrangements for outpatient services that may not be given in the home.
Our Physical, Occupational and Speech Therapy Services may include but is not limited to:
Physical Therapy
Body Mechanics
Education and Training in the use of Assistive Devices
Exercise Programs
Improving Range Of Motion
Muscle Re-Education
Orthopedics
Pain Management
Pediatrics
Post Surgery Care
Pre Surgery Care
Regaining Mobility
Relearning Daily Living Skills And Self-Care Skills
Strength Training
Occupational Therapy
Balance Restoration
Basic Level Skills Education and Training
Basic Skills Evaluation
Body Mechanics
Device Assistance Training
Energy Conservation and Management
Exercise Programs
Health Assessment
Mobility Enhancement
Muscle Control Restoration and Enhancement
Pain Management
Restoring Balance
Restoring Muscle Control
Restoring Physical Mobility
Sensory Functions Restoration
Strength Enhancement
Therapeutic Programs
Speech Therapy
Adaptive Speech Devices
Aural (Hearing) Rehabilitation
Aural Rehabilitation
Cognition
Cognitive Skills Evaluation
Communication Options/Alternatives
Comprehension Skills Assessment
Dysphagia (Swallowing)
Eating and Swallowing Strategies
Home Safety
Home Speech and Language Exercise Program
Language
Non-Oral Communication
Patient Education
Sensory Skills Assessment
Speech
Speech Articulation Exercise
Medical Social Services
A-1 Healthcare Management Social Workers provide counseling with the patients' and/or family to help deal with social and emotional factors that are related to the patients' illness. Our specialists help family members to properly care for the patient by communicating available community resources.
Services may include but is not limited to:
Advance Directives (Power of Attorney for Health Care or Living Will)
Bereavement Support and Grief Counseling
Case Management
Community Resource Planning and Coordination
Crisis Intervention
Education Regarding Alternative Living Arrangements
Financial Assessment
Foster Care Arrangements
Hospital Discharge Assistance
Individual, Family Counseling, and Group Counseling
Life Coaching
Parenting Advice and Coaching
Rehabilitation Guidance and Support
Short-term Therapy
Support in Acquiring Home Health Services
Home Health Aide
A-1 Healthcare Management Aides assist the patient with personal care, meal preparation, ambulation and exercises under professional supervision.
Services listed below may include but is not limited to:
Ambulation
Bathing, Grooming and Personal Hygiene Assistance
Blood Pressure and Temperature Monitoring
Bowel Program
Catheter care
Companionship
Dedicated Attention and General Supervision of Health
Home Exercise Program
Light Housekeeping
Meal Preparation
Medication Management
Mobility assistance
Nail care
Oral hygiene
Simple Wound Care
Skin care
Hospice
Hospice is a type of care and a philosophy of care that focuses on the palliation of a terminally ill or seriously ill patient's symptoms. These symptoms can be physical, emotional, spiritual or psychosocial in nature. Hospice care focuses on bringing comfort, self-respect, and tranquility to people in their final year of life. Patients' symptoms and pain are controlled, goals of care are discussed and emotional needs are supported. Hospice believes that the end of life is not a medical experience, it is a human experience that benefits from expert medical and holistic support that hospice offers.
Diagnoses
Hospice is not just for people with cancer. Our services benefit patients with a number of different diagnoses, including:
End Stage Cardiovascular Disease
Stroke
Congestive Heart Failure
Pulmonary Disease (COPD)
End-stage renal disease
Parkinson's disease
Multiple Sclerosis
End-Stage Liver Disease
End-Stage Alzheimer's Disease
End-Stage Dementia
AIDS
Debility
ALS (Lou Gehrig's Disease)
Caregiving
Our caregivers can offer practical support and assistance to you or your loved ones at home or at the client's institution. The caregivers in our staff here at A-1 Healthcare Management are highly experienced when it comes to giving care to people who cannot take care of themselves. We offer part time, full-time or by hour basis caregivers who can be there for you when you need them.
Caregiving services may include but is not limited to:
Appointment Reminders
Assist with Crafts
Assistance in & out of bed
Assistance with Hygiene
Change Linens
Dust
Family Respite Care
Hair Styling
Help Climbing Steps
Help with Bathing & Showering
Help with Dressing
Help with Sewing
Hospice Client Assistance
Hydration Reminders
Incontinence Care
Iron Clothes
Laundry
Light Exercise Assistance
Make the Bed
Meal Planning and Preparation
Medication Reminders
Monitor Diet & Eating Habits
Play Cards and Games
Provide Transportation
Safety Supervision
Schedule Appointments
Skin Care
Take out the Trash
Vacuum
Wash dishes