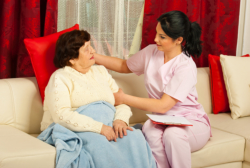 Our Home Health Care Services Include:
Skilled Nursing
Physical Therapy
Occupational Therapy
Speech Therapy
Social Services
Home Health Aide
Psychiatric Nursing Care
Who will need home health care?
Patients who need short term assistance after discharge from the hospital
Chronically-ill or permanently disabled who wish to remain at home
Older adults, who due to illness or disability need assistance in their home
Family Respite – To provide short-term relief for family members caring for a parent or relative who is all
Who pays for home health care?
Insurance Coverage
We will verify upon receipt of any assignment of benefits. We will bill your insurance carrier directly.
Direct Payment
When billed directly to you, A-1HHC/MHHC will provide you a statement that clearly identifies visits and hours spent in your home by our professionals. You pay the per-visit or per-hour rates, we pay all taxes and insurance for our employees.
Skilled Nursing
Our Registered Nurses provide skilled care to their patients. They also provide education and helpful instruction to family members. Our nurses work to enable their patients to live and function independently at home.
This process increases the patient's comfort; thereby, improving their overall health. Our services include but are not limited to:
Treatment & Injections
Dressing Change
Catheter Care
Supervision of Medication
Restorative Care
Respiratory Care
Family/Patient Health Education & Counseling
Diabetic Education
Care of Chronically Ill
Drawing Blood & Lab Work
Intravenous Therapy (IV)
Wound Care
Pre-Op and Post-Op Care
Physical, Occupational, & Speech Therapy
A-1HHC/MHHC therapists are certified and licensed in the State of California. Each therapist is especially trained to assist patients in improving their ability to perform daily activities. Our therapists will assist family members in making arrangements for outpatient services that may not be given in the home.
Our Physical, Occupational and Speech Therapy Services may include but is not limited to:
Physical Therapy
Body Mechanics
Education and Training in the use of Assistive Devices
Exercise Programs
Improving Range Of Motion
Muscle Re-Education
Orthopedics
Pain Management
Pediatrics
Post Surgery Care
Pre Surgery Care
Regaining Mobility
Relearning Daily Living Skills And Self-Care Skills
Strength Training
Occupational Therapy
Balance Restoration
Basic Level Skills Education and Training
Basic Skills Evaluation
Body Mechanics
Device Assistance Training
Energy Conservation and Management
Exercise Programs
Health Assessment
Mobility Enhancement
Muscle Control Restoration and Enhancement
Pain Management
Restoring Balance
Restoring Muscle Control
Restoring Physical Mobility
Sensory Functions Restoration
Strength Enhancement
Therapeutic Programs
Speech Therapy
Adaptive Speech Devices
Aural (Hearing) Rehabilitation
Aural Rehabilitation
Cognition
Cognitive Skills Evaluation
Communication Options/Alternatives
Comprehension Skills Assessment
Dysphagia (Swallowing)
Eating and Swallowing Strategies
Home Safety
Home Speech and Language Exercise Program
Language
Non-Oral Communication
Patient Education
Sensory Skills Assessment
Speech
Speech Articulation Exercise
Medical Social Services
A-1HHC/MHHC Social Workers provide counseling with the patients' and/or family to help deal with social and emotional factors that are related to the patients' illness. Our specialists help family members to properly care for the patient by communicating available community resources.
Services may include but is not limited to:
Advance Directives (Power of Attorney for Health Care or Living Will)
Bereavement Support and Grief Counseling
Case Management
Community Resource Planning and Coordination
Crisis Intervention
Education Regarding Alternative Living Arrangements
Financial Assessment
Foster Care Arrangements
Hospital Discharge Assistance
Individual, Family Counseling, and Group Counseling
Life Coaching
Parenting Advice and Coaching
Rehabilitation Guidance and Support
Short-term Therapy
Support in Acquiring Home Health Services
Home Health Aide
A-1HHC/MHHC Aides assist the patient with personal care, meal preparation, ambulation and exercises under professional supervision.
Services listed below may include but is not limited to:
Ambulation
Bathing, Grooming and Personal Hygiene Assistance
Blood Pressure and Temperature Monitoring
Bowel Program
Catheter care
Companionship
Dedicated Attention and General Supervision of Health
Home Exercise Program
Light Housekeeping
Meal Preparation
Medication Management
Mobility assistance
Nail care
Oral hygiene
Simple Wound Care
Skin care