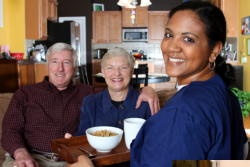 A-1 Healthcare Management will work diligently to ensure an individual's right to dignity, respect and privacy by providing the finest in Home Health, Hospice and Care giving services possible. Because we believe that care rendered in the home enhances your sense of well being; thereby maintaining the highest possible quality of life.
A-1 Healthcare Management is committed to employing compassionate, competent and caring personnel to assure appropriate, adequate and effective patient care. Our Home Health and Hospice team of healthcare professionals will honor its commitment to you the patient, and your family; "No less than the best in patient care is acceptable".
A-1 Healthcare Management will not discriminate against any person on the basis of race, color, creed, religion, sex, national origin, disability, or age. A-1 Healthcare Management is dedicated to continually improve its operational processes & protocols to achieve the best outcomes possible.
Thank you for allowing us to serve you and your family.
Binita Trivedi
Administrator